Welcome to the 2022 Kids Summer Reading Challenge!
This challenge is for all kids from birth to 6th grade! Registration begins June 1st!
To get started, click on the Beanstack button below and create or update your account.
Then sign up for your summer reading challenge!
There's also an app to make logging your books super easy! Click here to learn more about the Beanstack app.
Also, once you are registered, you can use the Amazon Echo device, "Alexa" to log your reading. Click here for Alexa instructions!
Register by June 30 for a chance to win one of these great prizes!….
Adventureland Amusement Park -2 Free Passes, Special Prize Bag, and a children's book!
Port Jeff Bowl Family Fun Pack – 1 hour of bowling on one lane, shoe rental for up to 6 people, pitcher of soda, Special Prize Bag, and a children's book!
Silver Stars Gymnastics – Free Week of Summer Camp, Special Prize Bag, and a children's book!
American Museum of Natural History – 4 tickets to the Museum that expire September 2022, Special Prize Bag, and a children's book!
---
What is the Summer Reading Challenge (SRC)?
READ READ READ! To complete the challenge, you must read at least 7 books this summer. Everyone who finishes the SRC will get a prize bag beginning Monday, August 8. We'll also have raffle prizes at the end of SRC! Each week that you log at least one book, you will receive an eTicket that can be entered into the system for any of the prizes you choose! You may enter all different raffles, or all the same, however you want to distribute your tickets. Tickets will be pulled, and winners will be announced at the end of SRC after Sunday, August 21. Click here to see the list of raffle prizes!
For more information about the Summer Reading Challenge, Click here for our handy "Frequently Asked Questions"
---
Show Your School Spirit!
That's right! Your participation in the SRC will also be counted towards helping your school win the Emma Cup trophy! The school that has the highest percentage of children that sign up for AND finish SRC (each child must read at least 7 books to complete the program) will have their school's name engraved on the trophy. This friendly competition is always a lot of fun each year!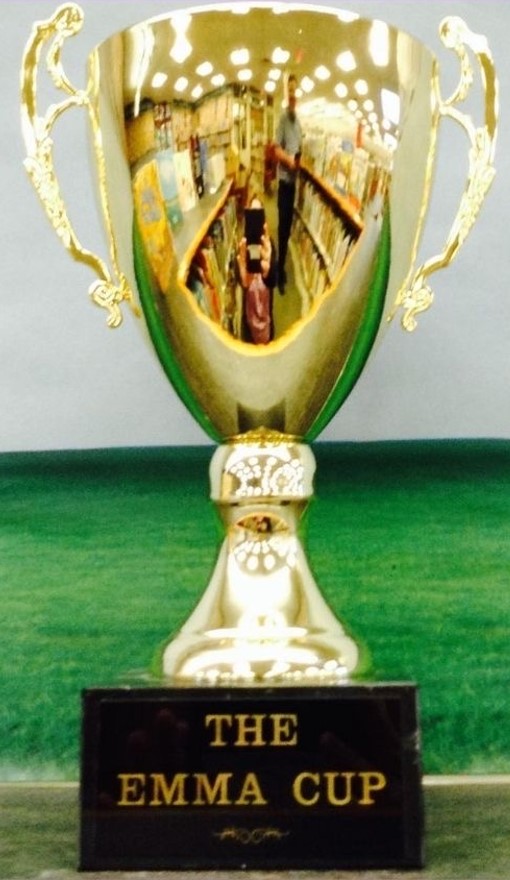 ---
What are the benefits of using the Beanstack program?
Besides acting as an online book log (think of it as a "Fitbit for Reading"), there are other benefits to recording what you've read via the website, app, or Alexa, such as weekly book recommendations based on your age, reading level, and interests. You will also be able to view themed guides on topics of interest (ranging from "Let's Explore Rainbows" to "Stargazing"). When you log your books read, you will receive colorful electronic badges and earn raffle tickets for the many baskets that can be won this summer. Kids also have the option to write book reviews and read learning tips for each book selected. If you would still like a paper log as well.
Click here to print out a Reading Log.
---
THANK YOU!
Emma Clark Library would like to thank the following businesses that support the Library and our community by donating gift cards and merchandise for Kids and Teens Summer Reading raffle prizes:
Adventureland Amusement Park
The Adventure Park
Applebee's
Argyle Theatre
Barry's Baked Goods
The Bite Size Bake Shop
Chico's Tex Mex
Chipotle
Chocology Unlimited
College 101 Resource Center
Crazy Beans
Del Fuego
Diamond Cut Productions – DJ Company
D.J.'s Clam Shack
Druthers
eShin Noodle Bar
Exotic Bowls Food Truck
Jersey Mike's Subs
John Braile Photography
The Long Island Explorium
The Long Island Violin Shop
Luigi's Pizzeria & Restaurant
Mattoo Center for India Studies at Stony Brook University
New York Cookie Cow
O Sole Mio Ristorante Pizzeria
Panera Bread (Lake Grove)
Paumanok Tours
Port Jeff Bowl
Port Jefferson Cinemas
Rolling Pin Bakery
Se-port Delicatessen
Setauket Gourmet Deli
Shake Shack
Silver Stars Gymnastics
Sonic Drive-In (Nesconset)
Splish Splash
Staller Center For the Arts
Starbucks
Station Pizza
Target – South Setauket
Urban Air – Lake Grove
Via Pizza
---